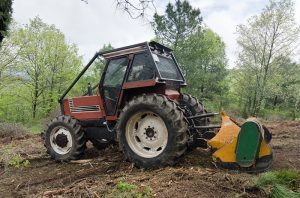 How Aftermarket FAE Mulcher Wear Parts Are Changing User Experience
One of the key factors transforming mulching industry is the availability of machine ware parts. There are many options of parts out there in the market that you can pick unlike the past when original manufacturer wear parts were the only option. Brands like the FAE are benefiting the most from the upcoming aftermarket market.
The expansion of the aftermarket FAE wear parts has had a big impact on the business. That's because of the sheer part of the market the brand controls. Today, FAE machines are being used in almost every part of the world. That is why the coming of the aftermarket FAE mulcher wear parts have changed the experience of many users across the globe. Here are ways that ways that aftermarket FAE mulcher parts are changing the experience of users.
Availability
One of the benefits that most FAE mulcher have had for the longest time was lack of replacement parts. With the main factory being based overseas, it would take time to have the order processed and shipped. That would result in very nasty downtimes, and the impact on the business is huge.  But with aftermarket wear parts, you can get these wear parts from a store near you. That is because most of these aftermarket factories are locally based. Hence they can access the market quickly to address the problem of scarcity. That is one of the biggest experiences that FAE mulcher users are enjoying from these parts. They get replacements in real time hence reducing the downtimes.
Good Quality
Quality has always been a challenge for FAE mulcher users. Unless they are buying from the original manufacturer, getting quality from other sources was just gamble. But with reputable aftermarket manufacturers coming into the market like King Kong and Carbide Mulcher Teeth (CMT), this problem has been solved. These are companies that are providing the market with high quality mulching wear parts. Those have used tools from these aftermarket companies, they have equated them to the original tools. That's how good they are when it comes to quality.
Friendly Price
Last but not least is the pricing of FAE mulcher aftermarket wear parts vis-à-vis the original tools. You will notice that there is a slight difference between these two options. Aftermarket is offering very friendly prices, and yet the quality of the products is very high. That is why a huge number of FAE mulcher is going for the aftermarkets.